EIC Celeberates Silver Jubilee
We attribute our success to our pillars of strength, innovation, safety, global client base, and our dedicated team!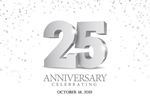 OCTOBER 18, 2019, ALPHARETTA, GEORGIA: Environmental International Corporation (EIC) celebrates 25 great years of global excellence. In this amazing journey, we have built a technically superior, financially strong, multi-disciplinary environmental engineering firm that embraces diversity, equity, and inclusion. Our pillars of strength are honesty, integrity, loyalty, and trust. Our unwavering commitment to professional ethics and innovation has allowed us to negotiate the most cost-effective solutions for our clients - rather than workarounds that typically entrap clients into perpetual liabilities.
Since 1994, EIC has successfully completed numerous projects utilizing innovative multimedia environmental products & services to address air, noise, water, wastewater, hazardous waste, solid wastes, landfill, and related multimedia impacts. Our growing client base includes port authorities, warehouse facilities, energy industry, petroleum and chemical facilities, manufacturing facilities, insurance and law firms, financial institutions, waste management industries, and government agencies. EIC provides multimedia environmental services in the Americas, The Caribbean, Europe, and Asia. 
EIC principals invented the unique remedial tool known as the NET™ for nonaqueous phase liquids (NAPL) remediation and other patented and patent-pending technologies for assessing and remediating NAPL spills on land and water. At less than 100 watts of energy demand, NET™ can utilize solar, wind, or line power, highly efficient but simple processes, and automation to significantly reduces the overall life cycle costs at NAPL impacted sites. The NET application has led to the elimination of perpetual NAPL liabilities at numerous sites across the United States as well as in the Bahamas, Bermuda, Cayman Islands, Dominica, Germany, India, UAE, United Kingdom, and the US Virgin Islands. Currently, we are developing prototypes for several new patented and patent-pending products that are sure to solve other environmental challenges at the lowest lifecycle costs.
EIC continues to enjoy an enviable safety reputation for maintaining a "Zero OSHA Reportable" safety rating since its inception in 1994. We have also developed an indelible track record for successfully implementing the most practical and cost-effective technical solutions as chronicled in written testimonials from both public and private sector clients.
We look forward to serving our existing and new clients with unique products and services reducing potential liabilities and preserving the environment for generations to come.